This veranstaltung has passed.
GL x Plutonium pres. Cleric
17. September 2016 · 22:00
|
VVK: 12,00 € zzgl. Gebühren
Veranstaltung Navigation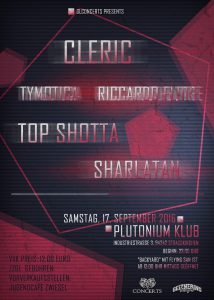 Following on from the success of his EP Voices of Control, we bring red-hot Manchester born techno prodigy Cleric to the Plutonium Klub.
Touted by some of the genres leading artists as one to watch courtesy of his dance floor slaying productions, Cleric has the world firmly at his feet as he continues his meteoric rise to the top.
2015 saw the gifted Mancunian establish himself not only as a bonafide new talent and key player in the international techno world, but also as a prolific artist on techno don Len Faki's Figure label where he now boasts a mightily impressive 5 singles. 2015 also marked the year Cleric launched the first release on his own imprint 'C L E R G Y'.
His short but decorated career has seen him make notable appearances performing both in and outside of Europe at some of the world's most coveted venues therefore we advise that you purchase your ticket as soon as possible to ensure that you don't miss out on catching this rising star bring his club targeted sound to Underbar.